We operate throughout Russia
Regional companies Svetoservis Group of Companies, "Svetoservis-Podmoskovye", "Svetoservis-Khimki", "Svetoservis-Saint Petersburg", "Svetoservis-Sochi", "Svetoservis-Kuban", "Svetoservis-Volgograd" — are mobile, coherent, well equipped subdivisions, which are able to efficiently and qualitatively perform any lighting assembly works in any part of the world. It is highly qualified teams of specialists maintaining the lighting systems during operation. We have great experience in simultaneous operation of the exterior lighting, of which lighting control systems, in volumes: over 700 000 lighting points, over 25 000 kilometers of electric lines and thousands of electric stations annually. Moreover, we have all necessary reserves to increase the above-listed volumes. We have launched technical audit system to the domestic business practice, we were the first who developed the technical operation regulations and created technological maps in Moscow city, had formed and launched the uniform electronic database for exterior lighting systems, which have never existed before. Full scale modernization of worn out and obsolete equipment of entire cities — is our strong point! We are the company with high production culture. Culture of management of processes, results and risks governing the performance terms, adherence to rules and regulations accepted in the industry, technical equipment — is a constant concern of the management of the corporation.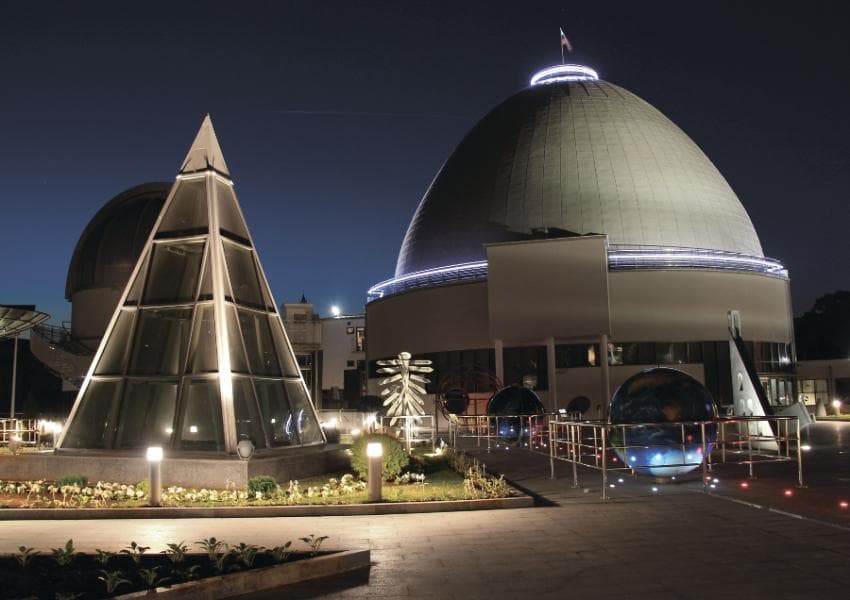 Why are we doing this?
We have assembled the equipment and maintain the lighting fixtures in Khimki, Moscow Region, at highways М-4 "Don" in Krasnodar Territory and М-20 in Leningrad Region, at Astrakhan Bridge in Volgograd, at New Borsky Bridge in Nizhny Novgorod, at Round Road around Saint Petersburg. In Moscow city, we have completed capital repair of the architectural illumination of Raushskaya marble avenue from Bolshoy Moskvoretsky Bridge to Bolshoy Ustyinsky Bridge, parts of the Garden Ring, Library n/a Lenin, buildings of the Committee of Science and Technologies, Olympic Stadium, Rizhskaya overpass, and etc.
We manage the light, color, and temper
We were the first and the only oneб who had created and launched the automated lighting control system (ASUNAO) for both exterior (unitary) as well as architectural lighting. The systems allow us efficiently reacting to problems, seeing the considerable energy saving effect and creating the most unexpected color and lighting dynamic scenarios with the use of specially developed programs designated both for the utility tasks: "Smart City", "Smart Street", "Smart Entryway", "Smart House", and etc., as well as for architectural, exposition, scenic, light dynamical and color and lighting dynamic lighting with the different special effects. Special programs developed by "Svetoservis-TeleMekhanica" (Svetoservis-TM) for management of the lighting have been produced at equipment developed and made at our Moscow plant. Recently, we remotely manage and control the state only architectural lighting simultaneously at over 2000 objects.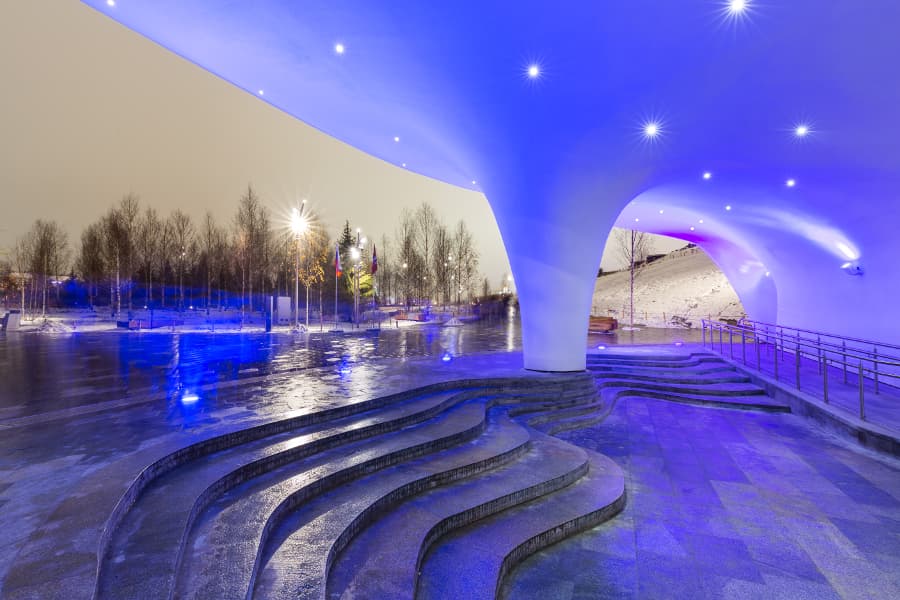 Why are we doing this?
We control lighting and manage it at majority of the federal highways of the Federal Road Agency throughout Russia, in Moscow city at Bolshaya Nikitskaya Street, illumination of the monument to Prince Vladimir; new park "Zaryadye", skyscraper at Kotelnicheskaya Naberezhnaya, North-Eastern chord, Patriarchal Bridge, Triumphal Square, Gagarin's monument and at many other recognized objects of the capital city and regions of the country.
From the conceptual solutions and design to engineering
Architectural lighting is the leading, but not the only activity direction of "SvetoProject". Our company dominates by many directions. As far back as at the end of 1996, when Russian cities were immersed in darkness, nearly 300 realized architectural lighting objects became the company's landmark, for which the company's team was honored with the title of the Laureate of State Prize for architectural lighting of the capital city. Today, we have already run decades thousands of offered concepts, thousands of implemented projects and nearly 9000 thousands completed and realized lighting objects throughout Russia and abroad. Out of them, nearly two hundred are cultural structures. We are the first and the only one in the history of the Russian lighting, who have developed concepts of the uniform color lighting environment of entire cities, amongst which are Saint Petersburg, Sochi, Lipetsk, Perm, and other. Adherence to the European regulations at engineering of the long-distance tunnels, for instance Lefortovskiy, Gagarinsky, and Volokalamsky is also our idea. Today, such tunnels are over 30.
Why are we doing this?
We are recognized by evening image of Bolshoi and Mariinsky Theatres, Tsaritsyno estate museum, Novodevichiy and Novospassky monasteries, by 22 Moscow bridges, bridge across Golden Horn bay in Vladivostok, Astrakhansky Bridge in Volgograd, Christ the Savior Cathedral, The Cathedral of Saint Sofia in Vologda, the Cathedral of St. Peter and St. Paul in Kazan, mosks in Moscow and Kogalym, Roman Catholic Cathedral Church, Pashkov's House and Moscow Planetarium, by "Dancing in the Dark" — television towers in Sochi, by media facades at Novy Arbat and many other objects.