Care of employees and integrity in labor relations
We always fulfilled all the obligations to our employees in relation to labor relations and compliance with the Labor Code of the RF. We pay all wages timely and in full, we provide safe working conditions and organize comfortable work places.
Being the Corporation, which values its business reputation, we respect all regulations that control the relations between employer and employee, and we strictly comply with all the norms established by the law. However, in our relations with our employees we are governed not only by the above, but also by the corporate values. As an example, we strive to develop a creative environment of mutual respect where each personality develops its best traits and enjoys interesting and productive labor. By maintaining a common corporate spirit, we a always value uniqueness of employees.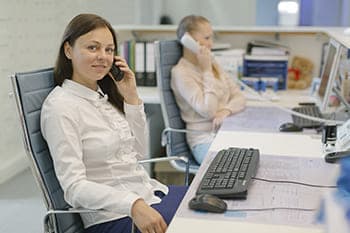 Why are we doing this?
We feel certain that our employees are the chief fortune of the Corporation. When any one of us makes a sttep forward, together we develop even faster.
Career opportunities
We create opportunities of career promotion for each our employee. As part of an integrated learning and career development team, all employees are able improve their professional and personal qualities, broaden their horizon, acquire new knowledge and competences in their professional field.
Individual professional grow is one of essential corporate values, a priority target of the management and the basis for the development of business. The Corporation supports any self-development initiatives of employees. For each division, annual training plans are developed. Employees participate in various kinds training (classroom instructions, correspondence, online, etc.) depending on its own preferences, with the approval of their division head.
We pursue an open and democratic personnel policy focused on the formation and development of innovative and professional team of like-minded persons. To determine a reasonable salary, we carry out comprehensive employee activity appraisals on a regular basis. This allows to establish proficiency levels and reveal potential for future growth. It is often this appraisal that serves as the basis for additional training objectives.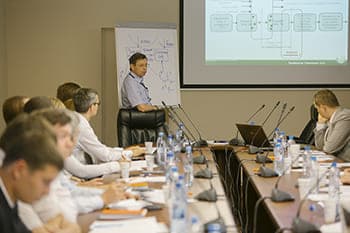 Why are we doing this?
We are interested in continual professional development of our employees, which is why we stimulate each of them for self-development, self-understanding, acquiring new knowledge, skills and competencies.
Support of scientific research
Today we employ 10 Candidates of science and 7 postgraduates, of which four began their doctoral studies in 2018.
We promote the participation of employees in scientific and research activities, we create the conditions for the realization of personal scientific, research, artistic and cognitive potential. We support their pursuance of academic credentials. Our employee interest in scientific activities owes much to the close-end business process system: from scientific research and development to production, from production to project realization and subsequent servicing of lighting systems during their operation, from operation to analysis of obtained results, and back to research and development. Analysis of results dictates new business objectives to improve process solutions. We always base our search for the above on the science.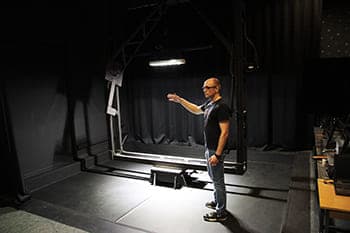 Why are we doing this?
We are recognized by the professional community as the leading expert in the domestic lighting engineering industry, and we are always competitive at the global market. Being the best in your field is the best guarantee of return on investments.
Work with young professionals
We implement the Young Professional program. This involves various types of education, instruction and additional training of young professionals including remote education. To intensify training we grant access to the Company's manufacturing, information, scientific and research resources. We carry out training on a gratuitous basis and on co-financing terms.
We carry out work to train future young professionals from students of the Lighting Engineering Department of IU MEI. No less than 20 individuals are trained and do fieldwork at enterprises of the Corporation, or work in their study-free time. By involving students into professional activities as early as during their training, we offer them the opportunity to decide upon the future of their professional life. They choose the work to their liking and we select the most promising professionals.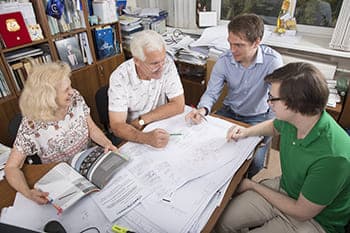 Why are we doing this?
We bring up cadres for the prospective future. We reduce the period of student adaptation when transferring to work process. The competitive environment of the team motivates students to obtain quality education, and leaves them the right to make their own decisions.
Awards and incentives
We value every employee and always encourage dedication to work and the capacity to generate new ideas and solutions, creativity and initiative. As part of financial incentives and non-financial recognition, certain corporate award have been introduced, some of them involve other additional awards. Among their number is the Letter of Appreciation from the General Director: a trophy bearing the Corporation's identity, a recognition certificate from the President of the Corporation, being listed at the Roll of Honor, the honorary title of 'Honorable Worker of ILEGC BL GROUP', the honorary title of 'Veteran of Labor of ILEGC BL GROUP'.
Enterprises of the Corporation give special attention to employees representing professional dynasties. The oldest professional dynasty is at Likhoslavl Plant of Lighting Engineering "Svetotehnika" and it dates 500 years. We cherish our veterans of the industry and keep them in the focus of our care and attention.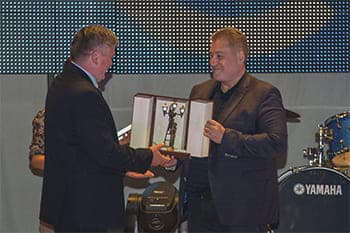 Why are we doing this?
We value our people, and the people value our care. Recognition of colleagues' virtues stimulates them to improve work effectiveness and creates a positive environment in groups.
Youth is our energy
Professional and social activity of the youth is the basis for harmonious development of the business, and a prerequisite for professional continuity. Youth movements are actively supported by all the enterprises of the Corporation. These include councils, creative teams and other forms of youth associations.
To support the youth in its social activities and in accord with universal human values means to unite it, to form balanced relations with the older generation, to boost them with energy, and build the team spirit of the team.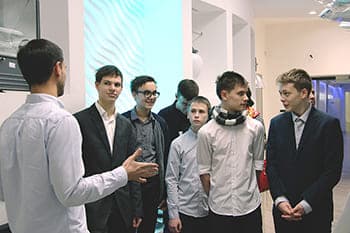 Why are we doing this?
We invest into youth today to be more successful tomorrow. Our today's youth is those who will do our business tomorrow.
Corporate newspaper and corporate portal unite us
The corporate newspaper and web portal are communication tools that make it possible for employees of the Corporation's enterprises to feel a unified team. All the divisions located in different parts of the world are able to feel their participation in common business. All it takes is opening the Light Life Newspaper or visiting the Intranet Portal.
Light Life regularly relates all the important events of the Corporation. In its column one may find materials on accomplished projects, editorial articles on products, and interviews with employees, a news feed, and much more. All the materials are written in a simple language clear to any reader, not just a professional lighting engineer.
The intranet is a convenient instrument, which helps our employees in their day-to-day activities. It enables fast search of structural divisions and employees, access to in-house data bases and keeping updated by important news.
By the way, the development of the Light Life and Intranet's new feed is yet another example of youth activities.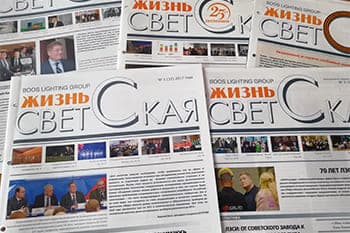 Why are we doing this?
We believe that in-house information channels are the blood system of the Corporation. They unite and enrich our workers with knowledge. Everyone feels involved in the common process by sharing the same ideas and values with others.
Culture, sport and festivities make us more united, too
Leisure and recreation through the support of culture, sport and corporate-related events is a long-standing tradition of the Corporation.
Culture
By imparting common cultural values, we promote their comprehensive personality development. For this purpose, we carry out culture-related events that unite whole divisions into a cohesive system, on a regular basis. Each of these events creates wonderful environment so that our employees are able to unlock their latent creative potential. As an example, the Kadoshkino Electrical Engineering Plant Choir established in 1968 is the only ensemble of the Republic of Mordovia, which was awarded the title of People's Choir.
Sports
The sport is a powerful team-building factor, which trains esprit de corps. We are focused on intensive development of the sportive element of the life of our team, and we support any endeavors in this area. Every enterprise of the Corporation supports sports teams that actively participate in various contests. As an example, ILEGC BL GROUP's football team is a regular award-winner of the Golden Fountain Contests.
Corporate events
Corporate vents are an integral part of our corporate culture. Each enterprise of the Corporation has its own traditions and events, and major occasions bring them all together. Such socializing serves the purpose of uniting and expressing appreciation of teams or individuals by the management. To take part in them, you only need some good humor.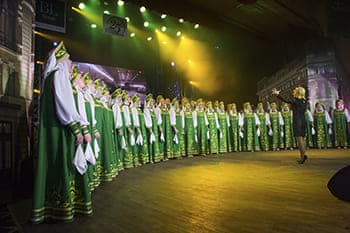 Why are we doing this?
We believe that all the corporate events are an important team-building factor, which shapes the unified corporate culture. They help to develop creative potential of any individual, make it possible to bring people's talents to light, and facilitate future work-related communications.
Support of lighting engineering science
Through the support of scientific and engineering research carried out in the Russian Lighting Research Institute named after S.I. Vavilov (VNISI), we assist the Institute to improve its material and engineering resources, and we are always ready to play the part of a reliable industrial partner in the area of complex studies and solving science-intensive problems. By investing into domestic science, we initiated the establishment of Science and Engineering Board for Lighting Engineering (SEB Lighting Engineering). President of the Corporation Georgy Boos was elected as the Chairman of the Board.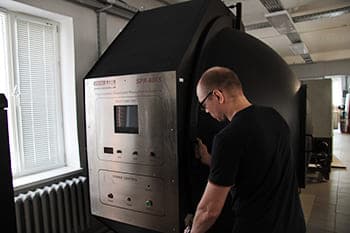 Why are we doing this?
By supporting the lighting engineering science, we gain new possibilities for our own growth.
Support of lighting engineering education
The development of lighting engineering science requires a high level of training in the theory of lighting engineering. Through the cooperation with the Lighting Engineering Department of IU MEI led by our President, we actively engage its students and postgrads in the young professional development programs. We have established scholarships named after great lighting engineers of the past: S. I. Vavilov, V. V. Meshkov, G. R. SHakhparuniants, M. M. Epaneshnikov, N. A. Kariakin, M. M. Gutorov and A. B. Matveev.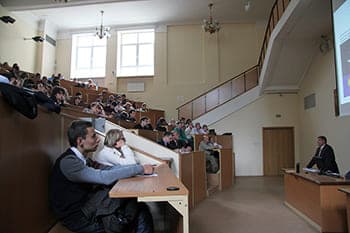 Why are we doing this?
by supporting lighting engineering education, we create conditions for the development of employee potential.
Support of scientific publishing
The lighting engineering science, education, as well as for the sector as a whole require stable channels of information, first and foremost, of scientific publishing. The Svetotekhnika Magazine is the scientific mouthpiece of the sector. The English language version, Light & Engineering, is listed in all the science-related international data bases, while the Russian version is supplemented with a section dealing with applied engineering. The Corporation is a reliable partner of the Svetotekhnika Scientific and Engineering Magazine, and invests in science publishing industry.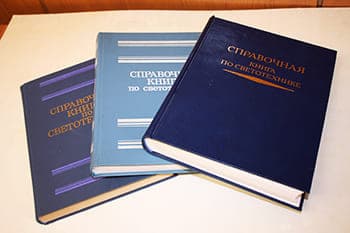 Why are we doing this?
By supporting lighting engineering publishing sector, we are the first to gain information and the first to communicate information about the Corporation.
Support of national culture
When illuminating cultural heritage objects, we also contribute to their artistic vision. New images of these objects inspire artists, photographers, writers, composers and other persons of creative occupations.
We are not just illuminating cultural heritage sites, we help to preserve them. As part of the mission to support cultural values, the Corporation illuminated over 150 religious structures.
We also support culture outside our professional activities. The Hope of the Homeland Award established by Georgy Boos to be awarded to young prominent Russian performers has become one of traditions of the International Organ Player Contest.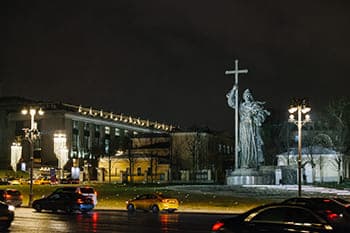 Why are we doing this?
We understand the value of humanitarian culture for everyone. By supporting national culture, we do what we believe is important.
Children's sports
We appreciate the import of sports in the development and upbringing of children. Following the initiative of Georgy Boos, the successfully performing Sveton children's hockey club has been established. The sports club invites children not accepted by other athletics schools; street children who were united as sports teams. Our young charges participate in various contests and perform increasingly better both in sports and in their studies. These children give us vivid and positive emotions.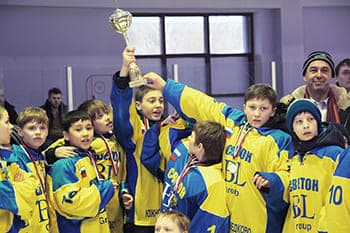 Why are we doing this?
As the expression goes, we are "responsible for those we tame". Involvement of children in team sports is our commitment.
Various aid
We assist to many of those facing harsh living situations. We assist social support institutions, veterans of the industry, orphaned children and people fighting grave diseases. Targeted support is a priority of the Corporation. We have to be sure that our aid is addressed precisely to those who really need it.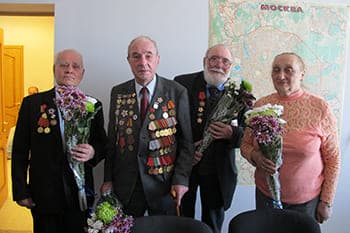 Why are we doing this?
We do it simply because we cannot help aiding people. Because who else if not us?
Social professional responsibility
Firstly, we try make our lighting technologies very eco-friendly.
Secondly, we strive to make artificial lighting safe to create a safe environment, which would prevent accidents, incidents and discomfort.
Thirdly and finally, all the illumination projects that we realize also plays an important social role. Emotional and psychological state of people and their health depend on our illumination.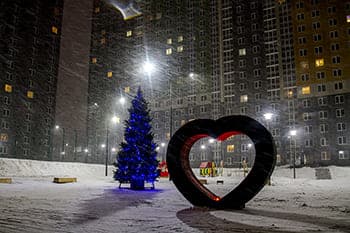 Why are we doing this?
We contribute to the protection of Earth's ecology, and make people just a bit happier.