September 28, 2022
Lighting from the BL GROUP in Ufa: the largest sports training center in Bashkortostan, "Art-KVADRAT" and the Bashneft gas station
The Sports Training Center named after 13-time Paralympic champion Rima Batalova, which opened in 2019 in Ufa, is the largest sports facility in the Republic of Bashkortostan. It meets all the necessary standards for holding international level competitions. The total area of the complex is over 37 thousand sq. m. About 3,900 athletes and spectators will be able to visit it at the same time. There are all conditions for training in 49 sports, including for people with disabilities. The center includes a universal sports hall with bleachers, an athletics stadium, 4 tennis courts, 4 swimming pools for adults and children, halls for boxing, fencing, dry swimming, a gym, as well as a medical center, a hotel, a cafe, car parking.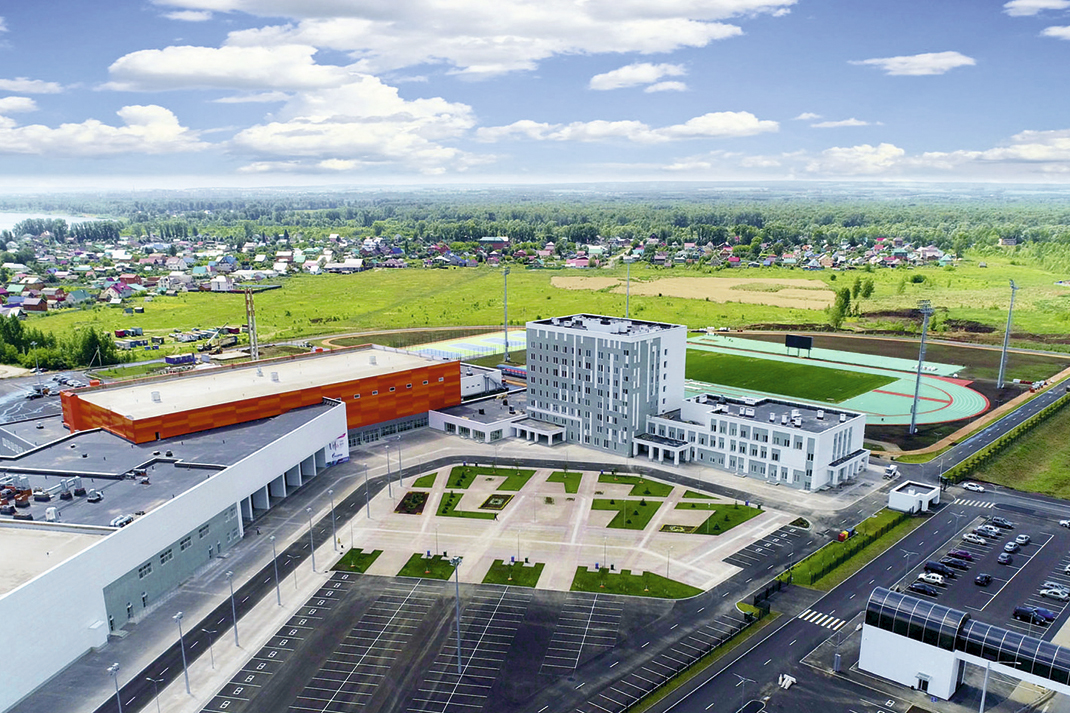 On the outside of the Center there is a modern outdoor multifunctional stadium, which is now illuminated by powerful and reliable floodlights produced by the enterprises of the BL GROUP. 16 GALAD Everest LED-400 (Asymmetric) spotlights are installed on four 35-meter masts with stationary crowns and one 18-meter from the OPORA ENGINEERING Corporation plant. These are universal LED spotlights for open spaces and workshops, with high quality characteristics.
In addition, 70 GALAD Wave Mini LED-40 luminaires are installed on supports from OPORA ENGINEERING to illuminate the external territory of the complex. These are well-known reliable LED street lighting fixtures manufactured by the Corporation's enterprises.
Another 56 GALAD Wave Mini LED-80 luminaires were installed in Ufa to illuminate the territory of the pedestrian quarter in the historical center of the city – the Art SQUARE creative space. It is a single space filled with offices, shops, cafes, restaurants, workshops, art salons, coworking areas and other modern public and creative spaces. Various events are held here - lectures, workshops, round tables, film screenings, fairs, design and architectural festivals, creative exhibitions, concerts.
On the basis of the Everest series floodlights, our specialists have developed special LED floodlights GALAD gas station LED for lighting under the canopy of the distribution columns of gas stations. This year, 179 such spotlights were used to illuminate one of the gas stations of the Bashneft company located in Ufa. GALAD LED gas stations are characterized by increased safety. LED elements as light sources do not require maintenance and replacement, work without discharge pulses and do not heat up to a high temperature, which is especially important when lighting objects with an increased risk of flammability. In addition to gas stations, these spotlights can be used to illuminate industrial premises, underground parking lots, railway platforms, loading and unloading ramps, warehouses, workshops.
It should be recalled that this summer the specialists of the BL GROUP also completed in Ufa a project of internal lighting of the new sports and recreation complex of the children's and youth sports school of gymnastics in Ufa. 160 GALAD Fortius LED-300 floodlights are installed in the gym (see https://bl-g.ru/en/about/press_center/5606/).