Our goal is the quality of life! Yours, mine, ours...
We work for the people by making their world comfortable and safe, their relations bright and positive and their surroundings lovely and attractive. Using accumulated best practices and craftsmanship in conjunction with science, education and production, we have created a team of like-minders passionate about light engineering and making life better. We know how to live in this dynamic world and help people to achieve their goals by illuminating their ways. The uniqueness of our team, the continuity of our traditions, our continual improvement, new innovative solutions and technologies, accuracy, reliability, expertise and performance are the guarantee of our leadership. We preserve Russian light engineering traditions and take national lighting engineering to a whole new, international level. We strive to remain an acknowledged global leader through fair partnership with our associates, as well as through direct dialog with consumers of our services and products. We assume an attitude of honesty and run a responsible business. We are open for realization of any possibilities and are prepared to solve problems of any degree of complexity. Our results are plain to see.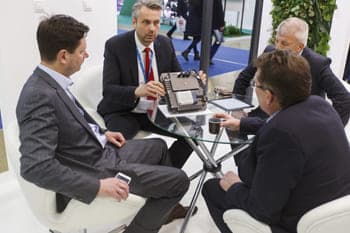 Why is it important?
We will not tolerate image risks, because we are proud of our achievements and, of course, cherish our reputation. We tend to be leading and interesting to be the first. We always work only on the result, the process is straightforward.
We are a major international lighting engineering corporation
We are the leading national association in the industry with over 9,000 projects successfully implemented in Russia and abroad. The resources mobilized by the Company, the scale of the corporation, the structure of business and management policies enable us to succeed in all the business areas of the lighting engineering sector.
We have developed a genuinely closed-loop system. From science to research and manufacture of products, from design based on these products to installation and operation of lighting units, from subsequent result analysis to new scientific developments. This is our principal difference from other lighting engineering companies. This enables us to offer a comprehensive package of services relating to any type of lighting on the market, irrelevant of the climate, complexity level or budget amounts of a particular customer. This also enables us to pool together all the necessary competences.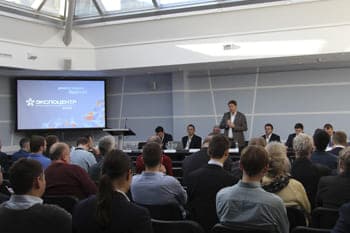 Why is it important?
Our resources, competence and capacities allow us to solve most varying tasks. We work in any conditions, at any scope and with any budget. We are prepared to offer any kind of custom solutions and attain overarching objectives.
We are the leaders of the Russian lighting engineering sector of stellar reputation
Our Company was the first to offer architectural lighting of historic buildings in Moscow and made this practice prevailing throughout Russia.
In the capital, we have established the system of technical audit of lighting system condition, we have developed technical operation regulations and introduced the consolidated electronic data base for exterior lighting systems of Moscow, which never existed before.
We were the first to develop and launch the Automated Lighting Management System (AULMS) in Moscow.
We are the only company in the country to develop citywide light and color environment concepts for cities like Saint Petersburg, Sochi, Lipetsk, Perm and others.
Observance of European regulations in the design of long-span tunnels was also our initiative. We have developed and launched a software system for lighting system estimation and design based on domestically produced luminaries. Despite of the emergence of similar foreign products, Light-in-Night Road program is the only one fully compliant with the requirements of Russian lighting and motorway paving regulations.
We are the ones that have developed and launched the production of secondary lens systems for LED luminaries that were non-existent in the country before.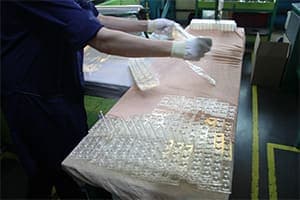 Why is it important?
We do not take reputation risks because we are proud of our achievements and value our reputation without compromise. Our leadership is inherent to us and we are thrilled by the challenge of being the first. With our streamlined processes, we are always result-oriented.
We are among the leaders of the global lighting product manufacturers
We have eight factories in Russia, Spain and Germany that manufacture lighting products including poles and metal structures.
Both of our lighting engineering plants located in Russia and Germany have a rich history of many years of operation. These plants are distinguished by high production practices based on traditions of professional dynasties of which the oldest one is more than 500 years old.
Our newer plants cooperate tightly with the senior enterprises. These are modern high-tech production facilities.
As of today, two out of three external lighting units are manufactured at Russian plants of the corporation and its lighting pole production share is about 30% of the total amount produced in Russia.
In regards to the amount and quality of manufactured products, our plants make top five global producers while the degree of local content in our products reaches up to 90% or even 100% in some products.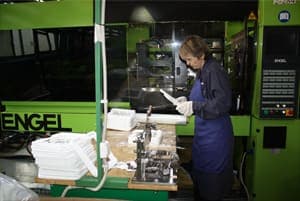 Why is it important?
We are stable and continually developing. We are not affected by fluctuation of currencies. Our reliance on domestic materials and component parts guarantees consistent pricing.
Our products are always in demand
We are the largest Russian manufacturer producing over 2,000,000 luminaries for internal and external lighting, about 1,500,000 electronic control units, about 100,000 poles and no less than 25,000 supports yearly. We also guarantee high quality of our products. All the products undergo quality control, as well as rigorous climate and mechanical testing.
We are capable of designing and manufacturing customized equipment with special technical specifications and individualized design.
While maintaining the production of conventional luminaries, we are leaping toward smart, maintenance-friendly and ergonomic light-emitting diode luminaries.
We manufacture all kinds of metal structures, from giant towers to elegant supports.
We were the first Russian company to establish production of folding poles that simplify maintenance.
We make products for any consumer: from economy to premium class with the same care to product quality.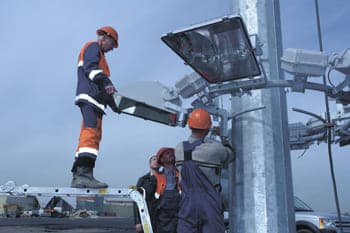 Why is it important?
We are one of those manufacturers that ramp up their production continually and consistently invest in the development of production facilities.