Road of New Generation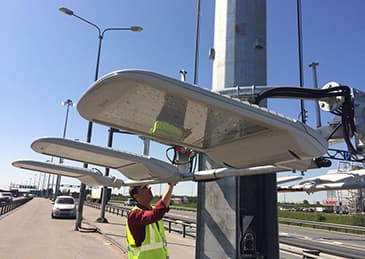 Number of transportation means at Russian motorways grows daily. Upon heavy traffic, especially in the evening and at night, safety and comfort are the emphasis, and the right lighting plays the significant part.
Experts of "Svetoservis-SPb" LLC (BL GROUP Holding) are in the best position to understand why it is important to design lighting project in compliance with all statutory regulations and norms. Moreover, availability of own production sites in the Holding and, thus, possibility of creation of the turn-key complex solution, application of new technologies and responsibility for quality of services allows to perform works of any complexity.
Project for modernization of the external lighting of the ring motorway around Saint Petersburg city within the scope of the state contract had demonstrated skills expertise of "Svetoservis-SPb" team.
10 meter supports with sodium luminaries were demounted at the road site from Gorskaya station to Priozersk highway. Old equipment was replaced by new 20-meter masts MGF (110 units) produced to order and light-emitted diode luminaries "Wave" (525 units). Use of light-emitted diode luminaries instead of lamps allows achievement of the highest energy efficiency in lighting quality.
Works at site would be completed by beginning of September.