Well-Doing Race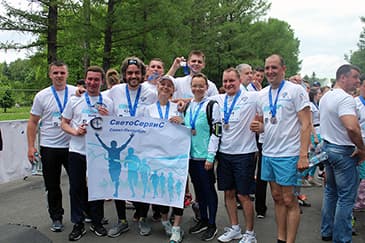 On May 29, 2016, officers of "Svetoservis-SPb" LLC (BL GROUP Holding) and regional representative of "BL Trade" LLC, Ivan Markov, (BL GROUP Holding), had participated in the charitable marathon "Well-Doing Race" in Saint Petersburg city. Our colleagues were both participants and fans. The team had participated upon support of Rosavtodor.
Female volunteers of the team had covered distance of two kilometers. Men covered ten kilometers. All participants had worthily crossed the finish line and are ready to fight for the honor of BL GROUP and in future competitions.
"Well-Doing Race" is held in favor of the administered of the charitable fund "B.E.L.A. Children-Butterflies". Main purpose of the marathon is to raise broad public awareness in seriously ill children. Any volunteer may become a participant, regardless of the level of physical training.
Gala-race to be held in Moscow city, Victory Park, on June 26, 2016, lies ahead. It starts at 12:00 o'clock.