Business Divisions
The BL Group Holding is the largest union in the Russian lighting market.
The BL Group Holding possesses all the research, engineering and manufacturing resources that allow it to offer professional design, manufacturing, equipment supply, installation and technical support for lighting systems during their work cycle. Since 1996, the company develops its own software for the design of various types of lighting. In the field of outdoor lighting Light-in-Night Road is used. It is designed to meet all the demands when designing roads, streets, squares, yards and parks.
Light-in-Night is the only certified outdoor lighting software in Russia.
In the area of energy consumption and accounting an automated information-measuring metering system has been developed and is being used (AIMMS), it keeps records of electricity consumed by lighting facilities, monitors networks and electric power quality.
The BL Group Holding was founded in 1991.
During the work of the Company approximately 2000 objects have been implemented.
Over 23,000 km of cable networks, over 613, 500 objects of illumination are being maintained by BL Group. Centralized remote control and monitoring systems that have been installed by BL Group cover more than 4000 dining areas.
The Holding Company employs about 5000 people.
The production area of BL Group's factories adds up to 51 500 sq.m.
The factories of BL Group annually produce:
- Two million lights;
- 1.7 million ballasts;
- 35 000 metal frames, including lighting poles;
- 17,500 brackets (supports, corbels).
Structure of the Holding Company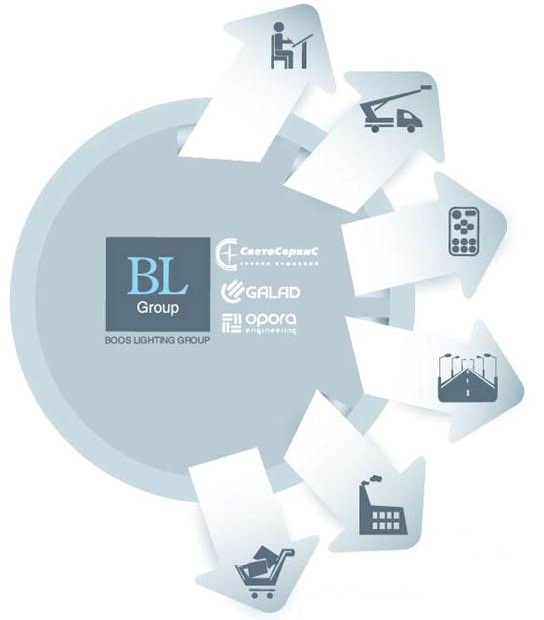 BL Group implements the following business processes:
a) Planning and design of various kinds of lighting facilities;
b) Planning and design of lighting devices;
c) Design of steel structures for various purposes;
d) Design of control cabinet for lighting installations;
e) Manufacture of lighting devices;
f) Manufacture of metal structures for various purposes;
g) Production of control cabinets for lighting equipment;
h) Production of construction and commissioning;
i) Maintenance of lighting systems of various types;
j) Maintenance of high voltage networks;
k) Maintenance of telemechanical outdoor lighting systems;
l) Sales of lighting fixtures and metal structures for various purposes.